WE ARE BACK!
WITH A NEW NAME AND A NEW LOOK!
LET'S GET ARTY!
We've been here since 2009 as
'Let's Get Shabby'
Times have changed and many of us have found our styles have too!
So it's time to move forward and add in being a little
ARTY!
This does mean you can certainly still do Shabby, or any other style...
just show us a bit of arty too!
Any genre is accepted...
Scrapbooking
Cards
Off the page
Home decor
Handy-crafts
We just ask that you:
-follow the criteria
-link back to us
-create only for our challenge if you want to be a winner
but it's okay to enter into other challenges to be chosen as favourite!
CHALLENGE #61
Colour Swatch Challenge!
PICK a photo from your photo gallery
UPLOAD it to 'Chip It' to get your swatch colours….
CREATE a project based on at least four colours from the colour swatches.
"If black and white are not part of your colour swatches, then they may be used minimally as title work/journaling etc" and your choice if you want to use your photo as part of your project.
Once in the site, scroll down a little and click on 'Upload an Image'
A box will pop to 'Agree to Terms of Use'…. click the tick box
Once your photo uploads with one set of colours… if you click on the 'edit' button, another set of colours drops down too.
You don't have to 'Log In to Save' - just save by right clicking to your computer
On your blog we will need to see:
One of your 'Chip It' photo with the swatches
And list the colour names of your choice.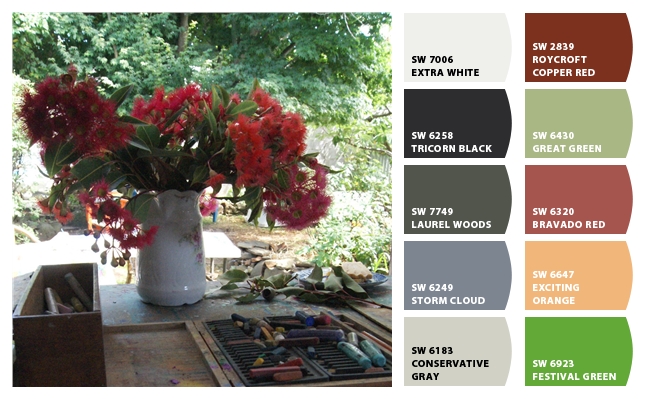 Mandy has managed to intergrate all the colours swatches into her 'vintage quote book'.
Jan has used 'Real Red' 'Extra white', 'Wondrous Blue' Special Gray' and 'Lobelia'
on her altered fabric, wood & card boat.
Deb has used all five colours from the second palette
and the white, black and yellow from the first
to create a set of cards for divided sleeves
OriBella has choosen four colours from the first palette: black, white, the two blues,
and lilac, gentian from the second to create this mixed media work.
Ludka
photo,

she

used

light

green color

, dark green,

gray-blue

,

light

pink

,

dark

pink

and lilac

.
Mandy
has offered this Darkroom Door quote stamp and embellishment prize:
Just upload your project to Mr Linky below
by 31st March
(Sydney Australia time - check clock on top left side bar)
Looking forward to seeing your 'arty' projects!!!